VRChat is an immersive, fun way to meet new people from all over the world. While you can join without using virtual reality, having a VR headset is by far the best way to play and get a glimpse of the metaverse.
But what's the best VR Headset for VRChat this year? This is what we're going to talk about in today's article. But if you're in a hurry, I'll start with my top pick for 2023.
Notice: We get commissions for purchases made through links in this article. This has no editorial impact, though and you don't pay extra.
The best VR headset to play VRChat is the Meta Quest 2. The Quest 2 is the newest model from Oculus, one of the most reliable VR headset brands.
It comes with next-level hardware, backward compatibility, total immersion, great controllers, a clear display, and an easy setup process.
While the Meta Quest 2 (formerly known as Oculus Quest 2) is perfect for VRChat, you still have other options if it doesn't suit you. I wouldn't recommend you choose this one if…
You want the highest refresh rate. In that case, choose the Pimax Vision 5K (available on Amazon).
You're looking for a premium headset model and have the budget for it. The HTC VIVE Pro Virtual Reality Headset (available on Amazon) would suit you the best.
In this article, I'll cover everything you should consider when buying a new VR headset for a better VRChat experience. You might also be interested in my previous article sharing the best VR headsets for watching movies.
I'll also explain why the Meta Quest 2 is the best choice and what other models better suit different situations. So let's get this started and get in depth with my top picks this year.
Meta Quest 2 (Best Overall)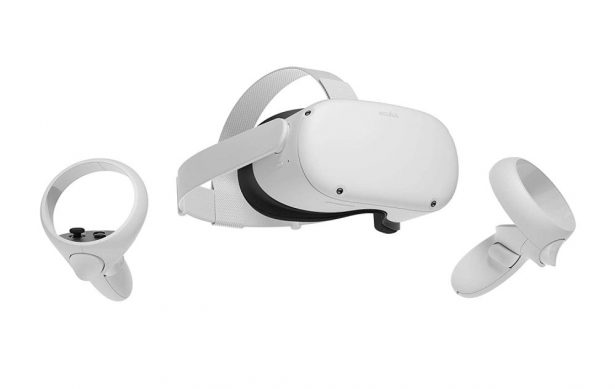 The Meta Quest 2 has significant improvements over earlier Oculus models. It's great for anyone who wants to play VRChat — whether you've owned VR headsets before or not.
You can read some of its reviews on Amazon to see what I mean – everybody loves it, not just me!
This model is the best for VRChat because it has accurate motion tracking and a reliable processor. That means your movements will precisely appear in the game, letting you better interact with the other players in the world.
Plus, the immersion for games like VRChat is excellent! The Meta Quest 2 doesn't require cables to run, letting you play without getting tripped up or having to take the device off to untangle yourself.
The only downside to this model is that the battery doesn't last as long as you might like. The powerful display and wireless features can run through the battery life quickly.
Still, having no wires connected to your head is suitable for VRChat. You can move naturally without bumping or stepping over them!
This model also comes with a lighter design than previous Oculus models. It's more comfortable to wear — you'll probably forget it's there while interacting with others in the game!
Bottom Line: I recommend the Meta Quest 2 for anyone looking to play a lot of VRChat! It costs as much as many gaming consoles, but you get a complete immersion in the VR world.
Additionally, it runs smoothly and doesn't come with bulky wiring! A solid investment.
Click here to check it out on Amazon.
Pros
Complete immersion. You get a premium display, wireless connection, and high-quality sound all in one.
Excellent motion tracking. Motion tracking can make or break the VR experience. This model has outstanding motion tracking!
Sleek design. The controller layout and overall design are smooth and work very well.
Cons
Battery life. The battery life could be longer.
Pimax Vision 5K Super (Highest Refresh Rate)
You want to feel comfortable when playing games like VRChat. You'll likely play for extended periods, but some headsets can start to give you a headache or strong motion sickness.
This Pimax headset has a higher refresh rate than many other VR headsets. The model is pretty comfortable to wear for prolonged amounts of time. It's also easy to adjust the band to the size of your head and put it on.
With this model, you won't experience as much neck strain or tension headaches – but in the end, this really depends from person to person and is not really related to the gadget itself (at least this is my opinion).
However, since this headset does have a higher refresh rate, that does help with avoiding motion sickness and getting dizzy. So that definitely helps and I will always consider it a bonus!
With the Pimax Vision, the controllers work well, but the design isn't as intuitive as the best overall pick on this list.
Additionally, you receive a full range of motion with a completely wireless setup. This makes moving feel more natural than just standing or sitting.
Bottom Line: The Pimax is very impressive and comfortable to use. This VR model is best for those who want to game for longer periods and don't mind paying extra.
Click here to check it out on Amazon.
Pros
Very comfortable. Your neck and eyes won't feel strained while wearing this model.
Good immersion. You get a good display, great sound quality, and no wires to maneuver around.
Highest refresh rate. The VR display comes with refresh rates up to 180Hz, which is the highest on this list, and great for eye fatigue and dizziness.
Cons
Expensive. The model is quite pricey compared to the competition.
Unintuitive controls. The controllers don't have the layout you expect.
Not a well known brand
HTC VIVE Pro Virtual Reality Headset (Premium Option)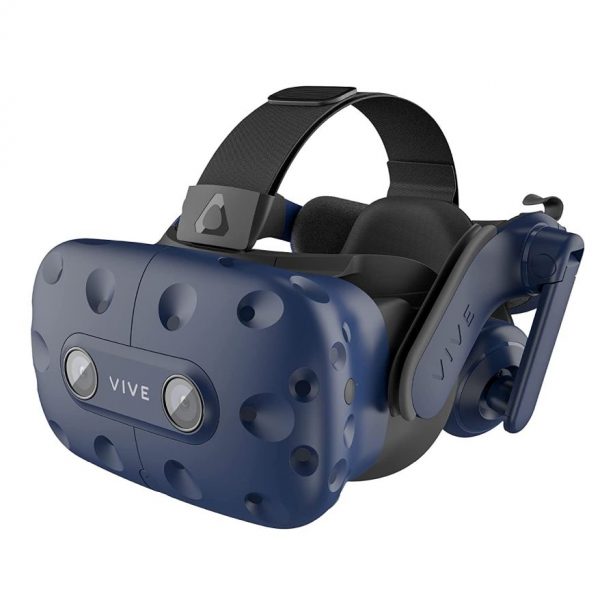 The HTC VIVE Pro is the most expensive option on this list. However, you get many premium features that the other headsets don't come with. You'll want to consider them if you plan on using this for many interactive and detailed games, not just VRChat.
And I am sure that most of you won't exclusively need it for that app alone. So if you have a bit more to spend, this premium choice is worth the investment!
While you do get the highest levels of immersion, it may not be worth the cost if you only plan to use it with VRChat.
VRChat doesn't need the highest possible immersion for you to have fun with your friends. So, in most cases, the Oculus Quest 2 is just as good — at a fraction of the price!
Still, if you want to invest in a premium headset, this is the best one available. It's comfortable, comes with a good display, and good controllers.
Remember that it's not wireless unless you take the time and money to add on the wireless feature yourself. It doesn't use an HDMI cord, so you'll also need a converter.
Overall, this is one of the most immersive headsets out there! Many users felt that the visuals look as natural as possible with VR.
Bottom Line: The HTC Vive is a great, premium VR headset. It's fully immersive but not worth the cost if you only want to play VRChat.
Click here to check it out on Amazon.
Pros
The best immersion. All games look incredibly realistic on the model.
Cons
Cost. This model does come at a high price. It's not worth it for VRChat alone.
Factors To Consider when buying a VR Headset for VRChat
There are several factors you should consider when buying a new headset:
Immersion levels
Controllers
Display
Setup
Cost
I'll explain more below and use the recommended products above to help you understand how good they are in each category.
Immersion Levels
| | | |
| --- | --- | --- |
| VR Headset Model | Immersion Level | Overall Score |
| Oculus Quest 2 | High | 9/10 |
| Pimax Vision 5K Super | High | 8/10 |
| HTC VIVE Pro | Very high | 7/10 |
Oculus is known for making some of the most immersive headsets in the market today.
Immersion should be one of the most critical factors for you to consider. If the headset doesn't feel immersive, you won't enjoy the VR experience nearly as much!
That means the headset won't "pull you out" of the game very often, if at all. You shouldn't have to constantly manage a ton of windows or take the headset off unless you're done with playing. Lots of bulky wires and sound issues can also lower your immersion.
In the chart above, the overall score considers all factors. The higher the score, the better the headset is for VRChat.
Controllers
Different VR headset models come with different controllers. When two headsets come from different brands, they'll have widely different control schemes. However, everyone prefers something different when it comes to VR controllers.
You don't want the gamepad to feel awkward to hold and use. Plus, you want to know that the controller is fully compatible with VRChat. Good motion control tacking is also essential.
That way, it's not frustrating to play. Overall, you should consider what the controllers feel like before buying.
Display
| | | |
| --- | --- | --- |
| VR Headset Model | Resolution per Eye | Refresh Rate |
| Oculus Quest 2 | 1832 x 1920 pixels | 120Hz |
| Pimax Vision 5K Super | 2560 x 1440 pixels | 180Hz |
| HTC VIVE Pro | 1440 x 1600 pixels | 120Hz |
For many VR games, you'll want to have a high-quality display to capture all the details of the environment. You'll want to consider the resolution. Models with a higher resolution do cost more but come with impressive displays.
However, for VRchat, you can get away with lower resolution displays since the game isn't highly detailed. You'll want to consider this factor more if you plan on using the VR headset for games other than VRChat.
Still, the display's resolution can impact how natural the world looks to you. It's worth investing in dense pixel displays for more immersion.
Lastly, a higher refresh rate is important for smoother visuals. If you get motion sickness, a high refresh rate helps you play for longer without feeling sick. Overall, you want a higher refresh rate on your VR headset for a better experience.
Setup
| | |
| --- | --- |
| VR Headset Model | Setup Difficulty |
| Oculus Quest 2 | Very easy |
| Pimax Vision 5K Super | Somewhat easy |
| HTC VIVE Pro | Medium |
You don't want to spend a lot of time and energy setting up your new headset. Many come with sensors that connect to your walls and ceilings, which can sometimes be a hassle to deal with. The more straightforward the process, the sooner you can play VR games.
Plus, a simple setup means that you can move the headset quickly. This benefit is best for students who often move between their school housing and home. Everyone can benefit from an easy setup!
Cost
Lastly, you always want to consider the price of the headset. You should get a model you can afford, especially if this is your first VR headset. You can upgrade to a better model later when it's more affordable for you.
Luckily, VRChat is a free-to-play game! You won't need to pay for the game on top of paying for the headset. So, you can save some money there.
Overall, while VR headsets are a lot of fun, you don't want to break the bank! Try setting a budget for yourself before you begin shopping. That way, you won't go overboard with it.
Key Takeaways
After considering all of the above, it becomes evident that the Meta Quest 2 is the best choice for VRChat and plenty of other VR games!
This model offers a ton of immersion, a great display, and excellent sound quality, making it easy and fun to chat with others online.
When compared to the other picks on this list, the Oculus Quest 2 is perfect for VRChat, making it a solid choice for the majority.

Latest posts by Calin Ciabai
(see all)