To ride Koraidon and Miraidon in Pokemon Scarlet and Violet, players will need to progress with the main story.
As an open-world game, it's essential to have a feature in Pokemon Scarlet and Violet that allows players to move around the map quickly.
This is exactly the purpose of riding Koraidon and Miraidon. They work as vehicles to allow the players to explore Paldea without having to run all the time.
Thankfully, they are unlocked fairly early in the game.
In this guide, I will explain how to ride Koraidon and Miraidon in Pokemon Scarlet and Violet and also showcase how to upgrade their vehicle capabilities to make them faster.
How to Ride Koraidon and Miraidon in Pokemon Scarlet and Violet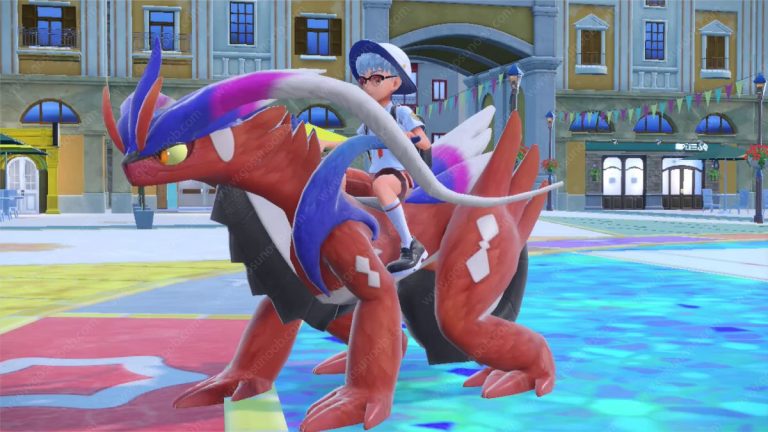 To ride Koraidon in Miraidon in the game, you'll need to fulfill three requirements.
Encounter the legendary Pokemon near the first beach in a cutscene
Talk to Arven at Poco Path Lighthouse
Reach Mesagoza and progress the Academy storyline
And that's all. After completing the Academy storyline, you'll get a 'How to Ride' notification on your screen.
Don't worry too much about following these steps since all of them are part of the main story. Unless you've driven off some random path right at the beginning of the game, you have nothing to worry about.
To ride your legendary Pokemon, press the plus (+) button on your controller. To jump, press the B button. And that's everything Koraidon and Miraidon can do when they're first unlocked.
How to Upgrade Koraidon and Miraidon Vehicles in Pokemon Scarlet and Violet
However, their abilities do not end there. Instead, they can unlock dashes, surfing, higher jumps, and gliding. Let's see how to unlock new abilities for Koraidon and Miraidon.
To unlock new abilities, players will need to progress in the Path of Legends route. This is done by defeating Titan Pokemon all around the map.
Specifically, there are 5 Titan Pokemon available, and defeating each of them unlocks a new ability for your mount.
Here are all the Titan Pokemon in Scarlet and Violet.
Klawf, the Stony Cliff Titan (Level 15, unlocks dashing)
Bombirdier, the Open Sky Titan (Level 19, unlocks swimming)
Orthworm, the Lurking Steel Titan (Level 28, unlocks high jumping)
Quaking Earth Titan (Level 44, unlocks gliding)
Tatsugiri, the False Dragon Titan (Level 55, unlocks climbing)
As for their locations, check your minimap. Everything should be marked there. Whenever you're near one of the titans and have strong enough Pokemon to take them down, go for it.
Upgrading your mount is always worth it as it will make exploring Paldea much easier.
Conclusion
To sum up, that's everything you need to know on how to ride Koraidon and Miraidon in Pokemon Scarlet and Violet. Progress the main storyline until after the Academy part and that's all.
As for how to upgrade them, defeat the Pokemon Titans found all around Paldea. Each titan will unlock a new ability for your mount so make sure to defeat all of them.
Now that you've mastered the mount system, consider checking out our guide on how to learn egg moves in the game. It's an essential mechanic for getting the best moveset for your Pokemon and it's surprisingly easy to do!
What do you think about the mount system in Pokemon Scarlet and Violet? Which ability is your favorite?