I've been playing a lot of NGU Idle lately, following the game's release on Steam. It is, in my opinion, one of the best incremental games that I have ever played, chock full o' features.
And Titans are one of those features that you read about in the requirements… but you never seem to get there after starting to play the game. Because, yes, NGU Idle doesn't really make it easy for you to unlock all features (and get bored afterwards), like most other games do.
No, here you will have to work hard to get everything unlocked and this includes Titans.
And in today's article, we're going to talk just about that: how to unlock your first Titan in NGU Idle – and also share a list of the titans available in the game, to know what to expect and how to prepare to face them.
How to Unlock Titans in the game?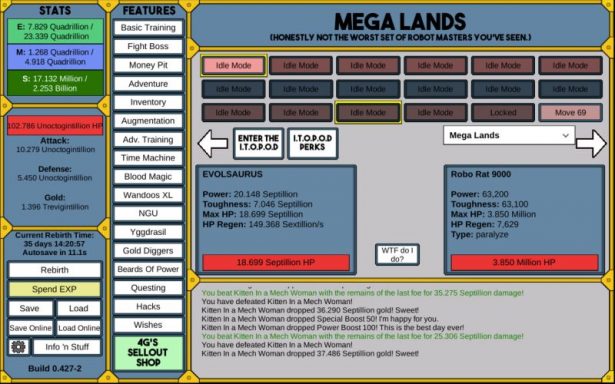 If I've learned something about NGU Idle since playing it, that's the fact that the game doesn't follow any rules. I was personally expecting to unlock the Titan feature when reaching (or after defeating) the Boss 50… but that didn't happen.
I thought that Boss 100 will be the one which will open the Titan, but as I had just started playing, reaching Boss 100 seemed ages away.
However, I was surprised to find out that you do unlock the first Titan much sooner. At Boss 58, actually – as strange of a number as that might be.
So this is all that you have to do if you want to get to the first titan: defeat Boss fight #58 and you unlock it, together with Challenges.
What are Titans in NGU Idle?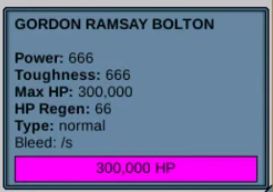 The first titan that you unlock is named Gordon Ramsay Bolton – a really powerful boss which is normally too difficult to beat when you just unlock it. When I did so, my stats where at around 300 each in Adventure mode, which is way too low for winning.
All Titans will have their own zone in the Adventure area and you can get to them by simply selecting their name from the list. Each Titan also has a countdown timer that needs to pass before you are able to challenge them again.
But one thing is certain in the case of all titans: you have to manually battle them unless you are extremely strong. For example, the first Titan in NGU Idle has something like 300,000 HP and 666 power and toughness, plus health regen.
He also has a bleed attack that gets higher the lower his health… so defeating him won't be easy. And a similar pattern is followed by all titans. In other words: a really tough challenge, so it will be days probably before you'll be able to defeat your first after starting a new game.
What happens when you defeat a Titan in NGU Idle?
You receive a ton of rewards, as you probably expect it: in the case of Gordon Ramsay Bolton, we're talking about over 1 million gold, free AP and XP Points, a Number, full sets of equipment and much more.
In other words, even though difficult and usually time consuming, defeating Titans is the way to go if you want to progress a lot faster in the game.
NGU Idle: List of Titans (and how to unlock them)
At the moment of writing this article, there are currently 6 Titans that you can unlock in the game. All you have to do is reach the specific boss battle listed below. But have in mind that they get more and more difficult to beat… so don't hope that you'll be able to defeat them all too soon!
Gordon Ramsay Bolton – Boss 58
Grand Corrupted Tree – Boss 66
Jake from Accounting – Boss 82
UUG, The Unmentionable – Boss 100
Walderp – Boss 116
The Beast – Boss 132
But with all the challenges available in the game all those bits of extra content… getting to the last boss – even though 132 doesn't seem like such a high number looking at it – will be really difficult. And beating The Beast will seem even more difficult… but you'll get there if you keep playing and rebirthing.