This is definitely one of the best mods released in Fallout 4 so far and you can download it here!
This mod allows you to get a deathclaw as a companion – or any of the other dangerous beasts in Fallout 4, like the radscorpion, gorilla, synths and even a Super Mutant.
You can even get a cat companion if you just want some extra company, but the cat won't fight.
The best part about this mod? The companions can be commanded and interacted with as with regular companions, but there are no dialogue options.
However, they do not take up your companion slot, meaning that you can basically have your regular companion, plus a beast following you.
Now that's a real team to tackle on the dangers in the Commonwealth / Wasteland! So definitely a must have mod.
How to download & install this mod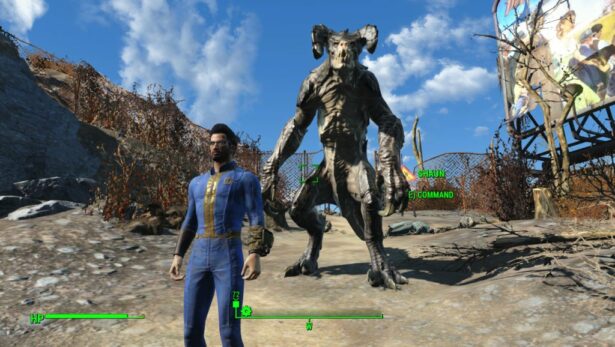 1. In order to install the Fallout 4 Deathclaw companion mod and get any of the beasts in the game follow you, you should first download the mod here.

2. Extract files to Fallout 4 directory(…\steamapps\common\Fallout4\)
3. Open console and click anywhere to select a random refid. Can not be player or other npc refid. Alternatively go to Vault 111 exterior and click on the radstag in console
Use the console command :
For deathclaw:
"bat shaunclaw"
and again
"bat shaunclaw"
—————————————————
For yao guai:
"bat shaunbear" and again
"bat shaunbear"
—————————————————
For gen1synth:
"bat shaunbot"
and again
"bat shaunbot"
—————————————————
For gen2synth:
"bat shaunbot2"
and again
"bat shaunbot2"
—————————————————
For cat:
"bat shauncat"
and again
"bat shauncat"
—————————————————
For Mutant Hound:
"bat shaunhound"
and again
"bat shaunhound"
—————————————————
For super mutant behemoth:
"bat shaunmoth"
and again
"bat shaunmoth"
—————————————————
For raider dog:
"bat shaunraiddog"
and again
"bat shaunraiddog"
—————————————————
For gorilla:
"bat shaunrilla"
and again
"bat shaunrilla"
—————————————————
For radscorpion:
"bat shaunscorp"
and again
"bat shaunscorp"
—————————————————
For vicious dog:
"bat shaunvicdog"
and again
"bat shaunvicdog"
4. To load the mod into the game edit this file: C:\Users\\AppData\Local\Fallout4\plugins.txt and add Shaun.esp to the list of mods to load. (make sure to make the file read only after editing it.
5. If the creature doesn't appear after typing the command, fast travel somewhere and it will be there for you.
Screenshots of the Fallout 4 Deathclaw companion mod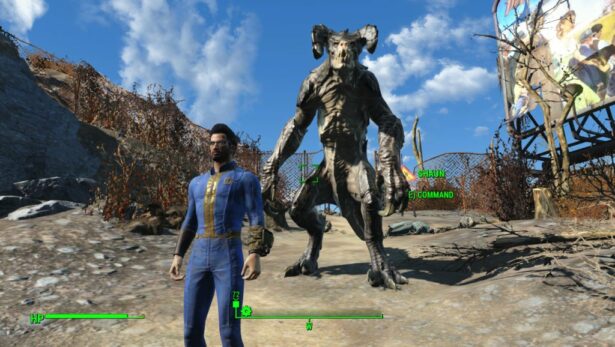 Thanks BOTLANNER and DumdogsWorld for making this mod possible. It's awesome!