This definitely caught my eye like a pop-fly in a catcher's glove. Alawar, the developer known for casual games like Farm Frenzy, Kingdom Tales and all sorts of hidden object and puzzle games, is working on a game inspired by John Carpenter's classic, The Thing. Even more, the new title, simply called Distrust, will be a sci-fi survival game!
Judging from the first bits of information that we have, this actually looks extremely promising. It's definitely a strange move from the casual genre and Alawar are risking a lot by moving away from their core audience, but I have to say it again: Distrust looks great!
It seems that the survival element has been masterfully implemented. A stealth mechanic is definitely part of the game as the screenshots show us guards with flashlights and lots of places to take cover. Also, the teaser trailer gives us bits of tasty gameplay information, although it seems a bit on the slow side.
For some reason, it makes me remember the classic Commandos series, even though I am sure it's just my old mind playing tricks on me.
But even if it has nothing to do with Commandos (and it most likely doesn't), the new game from Alawar can prove to be a really pleasant surprise for hardcore gamers. Here are a few screens to make you lick your lips with anticipation: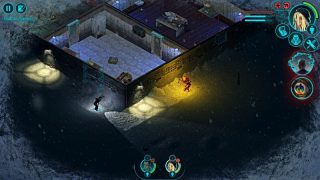 "Distrust is not your usual survival game. In addition to scavenging for food and equipment in a randomly generated map, players will have tons of quests, game events and plot twists to keep them coming back for more", said Artem Bochkarev, Producer at Alawar, about the game. "Adding an even deeper psychological layer, character mutations caused by a lack of sleep can range from seemingly harmless, such as a survivor giggling uncontrollably or quoting Shakespeare, to dangerous, where the survivor may see his partner as a monster and try to kill him."
There's also a limited demo available for download on Steam – so you should definitely give it a try especially if the game seems to you as good as it does to me. Also, we get demos so rarely nowadays that you should play each one just for the sake of it!
Distrust is set to release sometime in 2018 and it seems like a game to keep an eye on.

Latest posts by Calin Ciabai
(see all)