Virtual reality is getting bigger and bigger, with more awesome games and products being released each day. And today we're going to talk about the best VR-ready gaming laptops and try to find something as affordable as possible for you.
Although we're still far away from the regular science fiction predictions regarding virtual reality, things are still moving fast and we can say that today VR is absolutely amazing. And it can only get better, so this is the perfect moment to join the revolution and get yourself a virtual reality-ready gaming laptop.
But which one to choose? Well, you don't need to ask that question now because we've done the research for you and selected the best of the best VR ready gaming laptops in 2019. The best news is that they're not insanely expensive (although they are a bit more expensive than your regular laptop since they simply need more power).
But enough talking! We'll let you decide which is the best VR ready laptop for you based on our top recommendations below. Any product you choose will definitely be a great one. And to make things easier, we're listing them from the cheapest to the most expensive.
2019 Acer Premium Flagship Gaming Laptop
Funnily enough, this is both the cheapest laptop on our list (at the moment of writing) and the one with the largest display, at an impressive 17.3″. A match made in heaven if you're looking for a large (but less portable) VR ready laptop that won't break the bank.
It offers a ton of power as well for its impressive size: a state of the art 8th Generation Intel Hexa-Core i7-8750H processor clocked at 2.20GHz, but turbo-boostable to 4.10 GHz, a whooping 32GB of RAM and a more than decent graphics card, the GTX 1060 with 6GB of dedicated RAM. In other words, a real beast!
Its biggest disadvantage is the lack of storage space: it offers just 256GB of SSD storage which is a bit too little in today's world. But if you are great at micromanaging resources, you can put this bad boy to some great use.
The large, 17.3-inch display, is full HD and delivers a crystal clear image with great colors. It's large and heavy (at 6.7 lbs) so it's not highly portable, but this type of laptop is usually heavier than the rest because it needs larger and heavier components to deliver impressive performances. And that's exactly what you get from this hidden gem!
Click here to buy it or find out more on Amazon.
Omen by HP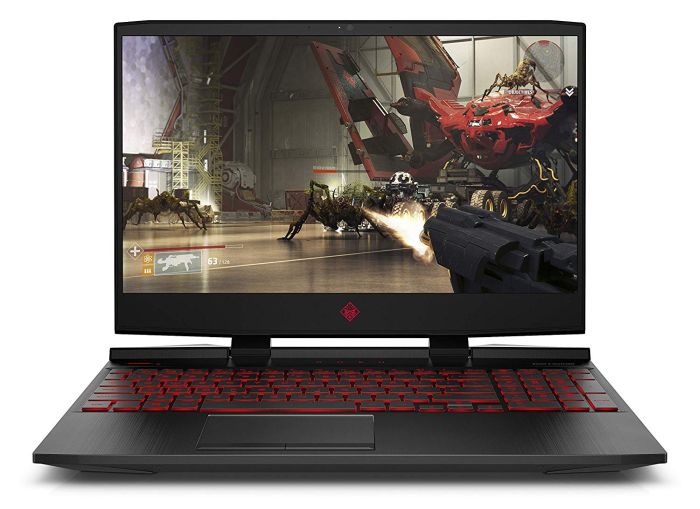 I've always been a fan of how cool the Omen line of gaming laptops look like and today's product makes no exception: it is absolutely beautiful, although not the thinnest on the market at the moment (although at around 1″ thick, it's not too bad either!)
Its specifications are absolutely perfect for virtual reality: the Omen is powered by an Intel i7-8750H processor, it has 32 GB of RAM and an awesome graphics card: the NVIDIA GeForce GTX 1070 with 8GB of dedicated RAM. In other words, extremely powerful! And it's selling for a decent price, offering increased power compared to some of the more expensive laptops on this list.
It also offers a decent amount of storage: 512 GB on a SSD. We can do a lot better, but there are also much worse options out there. It also has all the bells and whistles required, like backlit keyboard, 15.6″ Full HD anti-glare display and tons of ports for added connectivity.
What I consider interesting about this laptop is the placement of some of its ports, such as the HDMI port, USB ports and more: at the back of the device, making it a lot easier to connect to a large TV without too many cables to its sides. Interesting approach!
All in all, this is one of the best VR ready laptops on our list, offering great value for the money. There are definitely better options out there, but if your budget is a bit lower, this is your best pick!
MSI GS65 Stealth
Exactly like its name suggests, the Stealgh model from MSI looks like a regular laptop, but packs up a lot of heat under the hood, making it a perfect choice for those who want to keep a low profile and still get surprisingly good performances as well.
It is powered by the 6-core Intel i7-8750H processor, it has 16GB of RAM and the nVidia GTX 1060 graphics card with 6GB of dedicated memory. It also offers 256GB of storage which is not ideal, but still good.
As you can see, the specifications will not blow you away, but the fact that MSI managed to squeeze all these together in a highly portable 15.6″ gaming laptop that looks like a regular one is pretty much impressive.
It is slim and light (4.14 lbs), it has a cool personality with its backlit keyboard and gets the job done. And it's great if you want to keep a low profile, since it won't look like the expensive Virtual Reality ready gaming laptop that it is.
ASUS ROG Zephyrus S
ASUS' Republic of Gamers line is extremely well known among gamers and even though I've had my fair share of problems with more generic ASUS laptops in the past, I've never seen a ROG one to break. And I am sure that the Zephyrus S is extremely durable, so that you won't have problems with it either.
What hits you first about this laptop is its size: at 0.62″ thin, it proves that the super bulky gaming laptop era is breathing its final breaths, being replaced by the hotter slim and portable gaming laptops. And it comes with some design innovations that really make it look like a futuristic gadget.
But let's talk performance first! This 15.6″ laptop is powered by an Intel Core i7-8750H processor, it has 16GB of RAM and the GeForce GTX 1070 under its hood. It also offers 512GB of SSD storage and has a Military-Grade metal chassis to make it as durable as it gets.
It's heavier than the Stealth model above, weighting 4.6 lbs, but it's still extremely light for the power it has. My only problem with it – the thing that would've made it perfect in my books – is the RAM. 32 would've been better instead of 16, but you can't have it all and 16GB is still more than enough.
What's interesting about the Zephyrus S is its design: ASUS have completely removed the touch pad (which is something I rarely use on a laptop anyway), pushed the keyboard further down and used all that space above to improve cooling and to deliver a unique look. It does feel strange at first, but you get used to it really fast. And if you love the touch pad – worry not, as you can easily switch the numpad to the right into a touchpad.
All in all, this is a really good looking, thin and high performance laptop that can handle Virtual Reality without a problem.
Check it out on Amazon right now!
Alienware AW15R3-7003SLV-PUS
Alienware are extremely durable and built for gamers exclusively, but in my opinion they're getting a bit too expensive for what they're offering in terms of performance. However, they are highly optimized for gaming and still a good choice, especially if you're a fan of the brand.
For example, this VR-ready model offers an Intel Core i7-7700HQ processor with 16GB of RAM and the GeForce GTX 1070 graphics card. It also offers the most storage thanks to its 256GB SSD and 1TB HDD combo. But all in all, I would say that it offers a bit too little for its price.
However, it is definitely a good product that does its job! It also has a solid design that gamers usually love (I definitely do!), plus the plethora of ports at the back, which is a plus in my books.
The 15.6″ laptop also has full HD resolution, an anti-glare display and a great backlit keyboard. It does lack a numpad though and the position of the arrow keys is a bit strange, so look at it and decide if it's a good fit for you (or not).
Razer Blade 15 RTX
We're rounding up this list in style with Razer's amazing laptop. It does hit your pocket like a hurricane, but unlike one, it leaves a lot behind as well, as it is definitely one of the best VR-ready laptops you can purchase at the moment.
This 15.6″ gaming laptop is powered by the 8th Gen Intel Core i7-8750H processor (going all the way up to 4.1GHz), it has 16GB of RAM, but its jaw-dropping feature is the NVIDIA GeForce RTX 2070 Max-Q graphics card. This is one of the best graphics card on the market at the moment, so a perfect opportunity!
It's true, this laptop is the most expensive on our list thanks to its GPU, but if you have the money for it, it's an easy choice to make!
It offers 512GB of SSD storage as well, and Razer dubs it as the "world's smallest gaming laptop". I am not really sure what that means: at 0.7″ thick, it's thicker than the ASUS laptop above and it's also a bit heavier at 4.6 pounds… but these differences are easy to ignore and don't matter at all in my opinion. So even though probably not record-breaking, this great laptop is extremely portable and light.
And you're getting it for the performance, which is top quality as you can anticipate from the details above. So if you have the money for it, don't hesitate and get it now!
Click here to get it from Amazon
How to choose your VR-Ready Gaming laptop
Now that you have all the best products listed above, if you're still wondering which might be the best choice for you, I have a few words to end this article: always get the one that's closest to your top budget. Usually, the more expensive the laptop, the better its specifications – and that is what you ultimately need for a solid virtual reality experience on a gaming laptop. But this is not a rule and sometimes more expensive doesn't mean better.
Do look at the specifications, though: unless you have a favorite brand and want to go with it, you might get an increased performance from cheaper products: take HP's Omen laptop as an example: it costs less than Alienware's but comes with better specifications. So unless you really want to get a specific brand, look for the most powerful processor, best graphics card and RAM.
VR needs a lot of resources to run flawlessly, so the better the processor and graphics card, the better your experience. This is what matters the most, closely followed by the RAM.
Now, remember another important thing: a VR-ready gaming laptop is just that: ready for virtual reality gaming or programs. You will still need to purchase a VR headset for your laptop in order to be able to take advantage of it.
But you can't do much if you have the headset and a laptop that can't handle virtual reality, but fortunately our list above will fix that problem. Those are, in our opinion, the best choices for this year so pick whichever fits your budget or preferences and enjoy your new VR-ready laptop!